Looking Images in the Eye
May 7th, 2009 | By
J. Andrew Deane
| Category:
Blog Posts
While many of our discussions here on Called to Communion have centered around abstract and philosophical thoughts about grace, faith, hope, love and the like, it is an undeniable fact that something else has been lingering in the foreground, as it were. Those thoughts on concepts are important (and of course, we are just getting started), but something more tangible has been staring us in the face, about which we have said little. In leaving the Reformed communities where we were growing in our faith, a proverbial giant elephant in the room has entered into our lives. It is something about which many of our Reformed readers must be wondering. That something is the issue of religious images.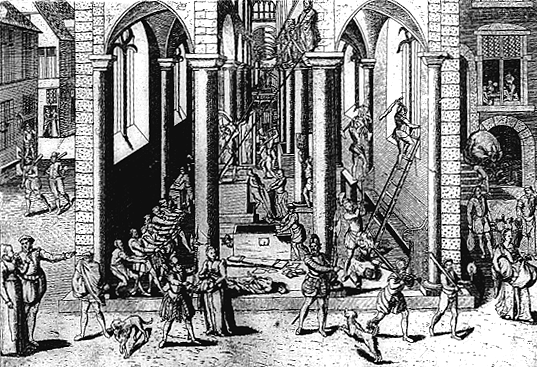 A Reformed congregation is intentionally lacking in images, and this is just as intentional as the plottings of great Renaissance painters who adorned cathedrals with images of the Lord, His mother, angels, saints and sinners alike to the point that at times it seems as though there is not an unpainted corner in some Catholic churches.
This stark contrast came from the Reformers view that in the construction of these churches, Catholics then (and now) were taking part in what is ultimately idolatry. As the Heidelberg Catechism puts it:
96. Q. What does God require in the second commandment?

A. We are not to make an image of God in any way,[1] nor to worship Him in any other manner than He has commanded in His Word.[2]

[1] Deut. 4:15-19; Is. 40:18-25; Acts 17:29; Rom. 1:23. [2] Lev. 10:1-7; Deut. 12:30; I Sam. 15:22, 23; Matt. 15:9; John 4:23, 24.

97. Q. May we then not make any image at all?

A. God cannot and may not be visibly portrayed in any way. Creatures may be portrayed, but God forbids us to make or have any images of them in order to worship them or to serve God through them.[1]

[1] Ex. 34:13, 14, 17; Num. 33:52; II Kings 18:4, 5; Is. 40:25.

98. Q. But may images not be tolerated in the churches as "books for the laity"?

A. No, for we should not be wiser than God. He wants His people to be taught not by means of dumb images[1] but by the living preaching of His Word.[2]

[1] Jer. 10:8; Hab. 2:18-20. [2] Rom. 10:14, 15, 17; II Tim. 3:16, 17; II Pet. 1:19.1
In these questions, we see that the second commandment (which is the second half of the first commandment in the ordering used by Lutherans, Orthodox, and Catholics–but I digress) is the basis upon which religious images are condemned. We are called not to use images in worship nor are we even to use them as "books for the laity" (i.e., not even for educational purposes).
The Westminster Catechism agrees with the overall scheme presented by the Heidelberg Catechism, as can be seen from question 109 of the Larger Catechism.
Q. 109. What sins are forbidden in the second commandment?
A. The sins forbidden in the second commandment are, all devising, counseling, commanding, using, and any wise approving, any religious worship not instituted by God himself; the making any representation of God, of all or of any of the three persons, either inwardly in our mind, or outwardly in any kind of image or likeness of any creature whatsoever; all worshiping of it, or God in it or by it; the making of any representation of feigned deities, and all worship of them, or service belonging to them; all superstitious devices, corrupting the worship of God, adding to it, or taking from it, whether invented and taken up of ourselves, or received by tradition from others, though under the title of antiquity, custom, devotion, good intent, or any other pretense whatsoever; simony; sacrilege; all neglect, contempt, hindering, and opposing the worship and ordinances which God hath appointed.2
How does a Reformed person then leave such a view of images and end up embracing images in worship and their daily lives? Do we as Catholics embrace idolatry?
I think the answer to this question comes, in large part, from focusing on what the Scriptures themselves have to say about this issue. When we open up Exodus 20 and consider its words on this commandment, we find the following:
You shall not make for yourself a graven image, or any likeness of anything that is in heaven above, or that is in the earth beneath, or that is in the water under the earth; you shall not bow down to them or serve them; for I the LORD your God am a jealous God, visiting the iniquity of the fathers upon the children to the third and fourth generation of those who hate Me, but showing steadfast love to thousands of those who love Me and keep My commandments.3
What is actually being forbidden? There are two "you shall not's" here. Breaking them down we have:
1) A prohibition against making a likeness of anything.
2) A prohibition against bowing down and serving those likenessess.
I'm not advocating that we actually separate these two prohibitions, but when we consider the view of images presented by the older Reformed documents, we are told that it is unacceptable to make images of God. That would only be an issue if one considered the first clause to be stand-alone. And yet, what of that first clause? If we are to separate it from the second prohibition, how are we to separate the practice of making images of God from making images "of anything that is in heaven above, or that is in the earth beneath, or that is in the water under the earth?" If anything, the advocate of banning images would have to do so in toto, to the point where family photo albums would reek of idolatry.
If we do not separate the two clauses, as I'm arguing that we should not, we also have the following question to ask: is it inevitable that an image which is specifically religious will lead to idolatry? What of any image at any time? I am not trying to undercut the reality of idolatry, nor do I deny that there are Catholics who have fallen to idolatrous thoughts over images, but the point is that images per se need not produce idolatry automatically. Looking to the Scriptures, we find that it is a heart of covetousness, not one's imagination, which is at the heart of idolatry (cf. Colossians 3:5).
In addition to these logical considerations, if we consider God's dealings with His people after Moses' mountaintop experience, we find examples where God commanded the construction of, you guessed it, images. In one case, people had strayed from God through their complaining about His providence. What was God's solution? The construction of an image of a serpent (cf. Numbers 21). Furthermore, in the exact context of worship do we find a barren place to worship God? No–instead, we read of God's command to construct the tabernacle with images of fruits, oxen, and even cherubim (cf. Exodus 36, elsewhere). Regardless of whether this is a distinction between the older dispensation of God's Covenant and the newer, the fact remains: these commands from God come AFTER the issuance of the 10 commandments.
At this point I also want to make it clear that I understand that these parts of Reformed catechisms are actually the sections where many Reformed believers will state their objections. Believing that only the Scriptures are infallible, the Reformed adherent has no qualms with saying, "Well, this is just one part where our forefathers got it wrong." Be that as it may, when one considers objections to Catholicism, if they hold any water, one must condemn far more than just the Catholic. They must criticize a Sunday school class where an image of Jesus walking on the water used for pedagogical purposes. As a former Sunday school teacher in a Presbyterian congregation, I can attest that we had visitors who would tell us not to give such handouts to their children. But despite the presence of such consistent people, we must ask whether this consistent holding to the Reformed catechisms is scriptural and logical. If it is not, we must be open to images.
Zooming out from pictures such as those of the Virgin of Guadalupe or the Sacred Heart of Jesus, I would challenge you with this thought as well: do you read the Bible with no mental imagery? Or do you find your heart wanting to be joined with those ancient stories by imagining the scenes? Isn't that making an image? No paint brushes were used and no sculpting was performed, but nonetheless there was a mental image?
Is it a sin to ever leave the abstract? If so, it seems very odd that our Creator has placed us in a world that is anything but only abstract.
Far too often it is the realm of heaven that is beyond our reach. In making images, as was done in the Old Testament, Catholics are calling on God to help all people come into contact with that world which is unseen.
http://www.wts.edu/resources/heidelberg.html [↩]
http://www.opc.org/lc.html [↩]
Exodus 20:4-6 [↩]