Persevering Most Assuredly: One Reason to Prefer Luther over Calvin
Apr 6th, 2009 | By
Neal Judisch
| Category:
Blog Posts
,
Featured Articles
I guess I'm starting to wonder whether any of the major players ever really disagreed with each other on the question of assurance of salvation. Everybody seemed to agree, at least at various points in their reflections, that you might not have (do not have?) strict certainty regarding (a) whether you are currently justified (or "saved"), or (b) whether you are a member of the 'elect', in a sense which entails that you are a recipient of the grace of final perseverance. (By 'strict certainty' I mean a kind of epistemic certainty implying the impossibility of being wrong given the internal evidence before you – given, that is, the evidence accessible to your consciousness and/or instrospective awareness – and not necessarily a form of certainty which deals in psychological feelings of confidence or certitude.)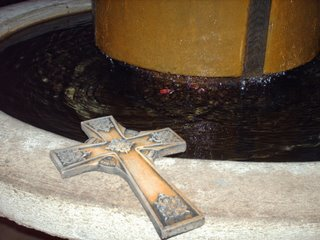 The question of assurance should of course be distinguished from such things as (c) the doctrine of the Perseverance of the Saints and (d) the possibility of being justified at one time and failing to be justified at a subsequent time. These are straight-up theological issues, about which people disagree. So for example, Luther would deny the Perseverance of the Saints if understood in such a way as to entail the impossibility of being justified at a time and then failing to be justified at a subsequent time. So would Augustine and Aquinas. Calvin, on the other hand, I take it, would see the class of elect persons as coextensive with the class of persons who have at any time been justified, from which the Reformed doctrines of the Perseverance of the Saints and the impossibility of becoming unjustified subsequent to having been at any time justified follow.
To lay it out a little more explicitly, the topic of 'perseverance' is metaphysical or (broadly) theological, and the topic of 'assurance' is epistemological or psychological. Discussion of the former requires a distinction between the following theses:
Metaphysical/Theological:
1. Perseverance of the Elect: All of the elect of God (those who've been predestined by God for salvation) are recipients of the grace of final perseverance – all will be justified, grow in sanctification, persevere to the end and be saved.
2. Perseverance of the Saints: Any person who has at any time been justified will ever remain justified, will grow in sanctification, and will persevere to the end and be saved.
Perseverance of the Elect does not imply Perseverance of the Saints, or "once saved always saved." For it can be true that all of the elect will be justified and persevere to the end (and thus finally be saved) even if it is also true that some persons will experience the grace of justification ("be saved") but will not persevere to the end and thus will not finally be saved. People in this latter class are not among the elect. (They may be among the 'elect' in the sense of having been baptized into the Body of Christ; they are not among the 'elect' in the sense of having been predestined to final salvation. These are two different ways of being 'elect', as Calvin pointed out: those who've been elected to final salvation are a proper subset of those who've been elected in any sense.)
Since 'elect' in the salvific sense simply means "those folks God has predestined for final salvation," the Perseverance of the Elect is definitionally true and consequently nobody denies it. Perseverance of the Saints, on the other hand, appears to have been first formulated by John Calvin, and people disagree about it.
Another thing: Perseverance of the Saints is sometimes wrongly correlated with a particular view of Divine sovereignty, or a particular view of predestination. Some people speak as though any strong view of Divine sovereignty or predestination – such as those we discover in Augustine, Aquinas, Luther and Calvin – automatically implies the Perseverance of the Saints. But it doesn't. God can sovereignly justify a person and then (sovereignly) allow that person to be choked by the worries of the world and fall away. This can happen without mitigating in the least Divine sovereignty or the supposition that all and only those predestined to final salvation will ultimately be saved.
And then there's the issue of "assurance," which requires a corresponding distinction:
Epistemological/Psychological:
3. A person who is justified at a particular time may have strict certainty that he is justified at that time.
4. A person who is justified at a particular time may have strict certainty that he is a recipient of the grace of final perseverance (that he is among the elect).
These are distinct too. It's possible that a person who is justified at a time is able to have strict certainty that he is justified at that time, without its being the case that he can have strict certainty that he is among the elect. If, however, a person endorses the Perseverance of the Saints (let's say, if they are strictly certain that the Perseverance of the Saints is true), and if they also possess strict certainty that they are justified at a particular time, then it is plausible to think that they could have strict certainty that they're a recipient of the grace of final perseverance as well: they could, in other words, infer from their present justified condition (concerning which they have certainty) that they are among the elect, because they're certain about "once saved always saved."
The crux of the theological dispute thus concerns the question whether justification can be lost, or, if you like, whether the class of elect persons is coextensive with the class of persons who have at any time experienced the grace of justification. However, even after answering that question we wouldn't yet have answered the epistemological-cum-psychological questions about "assurance." For it could be that the Perseverance of the Saints is true, but nobody can have certainty as to whether they are in fact justified (or, alternatively, the degree of certainty they have concerning their present condition is insufficient to underwrite the inference that they will never fall away). It could also be the case that the Perseverance of the Saints is false – that one can be justified at one time and then fail subsequently to be "saved" – but that, even so, we can have certainty that we're justified when we are justified, despite the fact that we cannot have certainty concerning whether we are among the elect. 1
I used to think that Calvin provided the strongest combination all the way around – strongest in the sense of giving us the strongest combination of possibilities – because he endorsed the Perseverance of the Saints, which Luther and the others didn't, and also because he endorsed the possibility of certainty concerning (i) our present justified status and (ii) our membership among the elect. I came to think, through time, that Calvin didn't really have the resources to explain how we get the kind of assurance I thought he ascribed to Christians, and, indeed, I chalked this failure up to a faulty epistemological orientation in Calvin which can be found in a number of his philosophical and theological contemporaries as well. 2
But I've since come to see that Calvin's position is perhaps more nuanced, and that he might not really have attempted to provide (or insist upon) more assurance than anyone else did. (More below.) However all that may be, I've come to believe that Luther and Calvin are sort of inverse images of one another with respect to perseverance and assurance: Luther doesn't give us "once saved always saved," but he gives us greater assurance of our salvation than Calvin; Calvin gives us "once saved always saved," but he gives us lesser assurance of our salvation than Luther.
On this point I'm afraid I must demur from the ordinarily trenchant analysis of Louis Bouyer, who writes the following concerning Luther in the critical section of The Spirit and Forms of Protestantism:
…in spite of the conservatism Luther and Lutheranism have always shown in the matter of the liturgy and the sacraments, it is beyond doubt that Luther closely linked the subjective side of justification by faith … with a denial of the objective value of the sacraments and of all the other means of grace. Once faith is present, there is salvation; but there is nothing in the sphere of salvation existing apart from faith itself, and faith in its turn has no transcendental object, no content outside itself. All this can be supported by the most categorical passages from Luther; it was to be systematized little by little down to its ultimate consequences by Protestant writers, although the early scholastics of Lutheranism saw the dangers of this position and eluded its logic. This view, in fact, reduces the sacraments, the Church, and defined dogma to the status of mere signs, easily dispensable, lacking even any content of their own. They are made into mere psychological stimulants or supports of a wavering faith, which a clear and firm faith can do without. 3
I simply don't recognize this orientation as characteristic of Luther. In fairness, it could be that Bouyer's really aiming to trace out the eventual results of a germ which is found incipiently within Luther; and I do think his description gives an accurate portrait of some strains of Protestantism. Luther, though? Not so much.
In part I deny this picture of Luther because it doesn't sufficiently incorporate Luther's very interesting remarks about "alien faith" and the "alien Word." 4  But I'm also indebted to the interesting discussion in Philip Cary's "Sola Fide: Luther and Calvin."  There Cary forcefully argues that the foundation of assurance for Luther was entirely distinct from what he calls "reflective faith," which requires us to believe that we have sufficient faith in the Gospel to be saved, and which he assigns to Calvin and the later Evangelicals following him. For Luther, in other words, our assurance isn't grounded in the quality of our religious interiority, or our psychological confidence in the strength of our personal faith, or whatever: it is grounded in the objective trustworthiness of God, who specifically promises to each one of us individually that we will be saved in our baptisms, through the voice of the Church. Thus Luther's argument for assurance wouldn't be "Whoever believes will be saved; I believe; therefore, I am saved," but rather: "Christ told me, 'I baptize you in the Name of the Father, Son, and Holy Spirit'; Christ never lies but only tells the truth; I am baptized (i.e., I have new life in Christ)." Here is Cary:
Notice how very different the baptismal formula is from the major premise of the standard Protestant syllogism. Logically, it's not a conditional statement. It lays down no conditions about what I must do or decide or even believe in order to make sure the promise applies to me. The promise applies to me because it says so: Christ says "you" and he means me. So the promise of the Gospel, on Luther's reckoning, is inherently, unconditionally, for me. Faith does not make it so but merely recognizes that it is so, a recognition that happens because we dare not call Christ a liar when he tells us, on that one momentous occasion, "I baptize you…" That is why the minor premise is not about my faith but about the truth of Christ. This is absolutely essential, and Luther makes a very big deal about it …

Now to say that God speaks the truth is, of course, to make a kind of profession of faith – but not in the Calvinist mode, because it is not reflective. We're not required to talk about our faith, to know we have faith … We are required, of course, to believe … But that, of course, is what faith essentially does: it believes in the truth of the Word of Christ. The problem with reflective faith is that it must do more: if reflective faith is required, then believing in God's Word is not quite enough, because we must also believe that we believe …

What faith says, fundamentally, is "God speaks the truth." Only secondarily, and not fundamentally, faith may also say, "I believe." But faith may also say, "My faith is weak" or "Lord, I believe, help my unbelief" or "I have sinned in my unbelief and denied my Lord, like Peter the apostle." Faith may confess its own unbelief. What it cannot do, if it is to remain faith at all, is stop clinging to the truth of God's Word.  For faith does not rely on faith, but on the Word of God. 5
He continues:
The logical distinction we must observe, then – and it is a crucial distinction – is between having faith and relying on faith. "There is quite a difference between having faith, on the one hand, and depending on one's faith, on the other," says Luther. "Whoever allows himself to be baptized on the strength of his faith is not only uncertain [because he doesn't know for certain whether he believes] but also an idolater who denies Christ. For he trusts in and builds on something of his own …"

Don't you agree? Isn't it much easier to confess, "Christ is no liar" than to profess, "I believe" – especially if what you're supposed to mean is: "I have true faith in my heart, I truly, really trust in God," etc. For this reflective faith, faith relying on itself, is how faith becomes a work, something we must do and accomplish in order to be saved. And then it has exactly the same problems as justification by works. You can always wonder if your works are good enough, and if you're honest, the answer will be: No, they're not good enough. In exactly the same way, you can always ask: Do I trust God enough? Have I really, unreservedly, surrendered by whole heart in faith to Christ? Is my faith strong, sincere, unhypocritical, un-self-serving? And the proper answer to all these questions is: No. My faith is never good enough, and thank God, I am not justified by such works of faith but by the truth of the word I believe in. My faith is not good enough, but the one I have faith in is. 6
None of this implies that Luther held out the possibility of strict certainty concerning our salvation or our membership among the elect. Luther's advice – and a pastorally adept bit of advice it is – was to say, "What do I care if I've been predestined? I've been baptized, and He who baptized me does not lie." It isn't that your baptism entails that you're among the elect; that's something you just can't know. But the external Word coming to you from Christ is true, and Christ applies it to you. That's the thing to cling to when you're looking for assurance.
Now if this is representative of Luther's orientation I fail to perceive any substantive differences between what Luther says and what Augustine or Aquinas or the Catholic Church generally says. The whole idea is that a person shouldn't presume to have certainty that they will be saved or that they are among the elect on the basis of things about them – the quality of their works or the genuineness of their faith or whatever. That would just be spiritual presumption. Rather, the point is to look in a different direction altogether: not inwardly, toward me and my faith and my works, but outwardly, toward Christ and His Sacraments and His Word. Fundamentally, it is the Lord who is your Assurance, even as it's the Lord who is your Righteousness. So you can and should place your confidence – your assurance of salvation – in the One who saves; but you can't and you shouldn't place your assurance of salvation in some quality of yourself.
Seen from this perspective, Luther's celebrated concern to provide assurance for the troubled conscience terminates in a solution which is, happily, entirely consistent with Catholic teaching, despite the fact that "the Protestant/Luther's position" on assurance is often set up in opposition to "the Catholic/Trent's position." I note with some pleasure that Alister McGrath has arrived at the same conclusion:
Trent's point seems to be that the reformers seemed to be making human confidence or boldness the grounds for justification, so that justification rested upon a fallible human conviction, rather than on the grace of God. The reformers, however, saw themselves as stressing that justification rested upon the promises of God; a failure to believe boldly in such promises was tantamount to calling the reliability of God into question. 7
But of course the whole point of the Catholic position is that God's reliability cannot be doubted, whereas whether you yourself have a sufficiently "bold" faith or sufficiently "good works" can be doubted. Thus your assurance of salvation ought to be grounded in the former, not the latter. And that's what Luther says.
What of Calvin, and the other branches of the Reformation which failed to retain a Lutheran or Catholic sacramentology? Here the case is different. To be sure, you can be told to look outward to Christ. But what matters is not grace objectively, tangibly, sacramentally conferred, but rather whether you are a member of the elect. For recall: (a) no non-elect persons are ever at any time justified, (b) baptism does not effect justification (or membership among the elect), and (c) you can appear – to other people and to yourself – to have saving faith, even though you are not among the elect and therefore are not really justified.
As I mentioned, I used to think that Calvin held out the possibility of strict certainty concerning one's status as 'elect' (and, indeed, Cary portrays him this way as well). 8 On the other hand, we may also see him as distinguishing between theological certainty and psychological certainty: the first has to do with divinely revealed truths which cannot be doubted, and the second has to do with items we believe to be true – such as, "I am saved" – but which aren't divinely revealed dogmas. (Homework for the reader: To what degree does this approximate the Catholic distinction between certainty of faith and certainty of hope?) McGrath again:
Faith is not the same as certainty; although the theological foundation of Christian faith may be secure, the human perception of and commitment to this foundation may waver.

This point is brought out clearly by Calvin, often thought to be the most confident of all the reformers in relation to matters of faith. His definition of faith certainty seems to point in this direction:

"Now we shall have a right definition of faith if we say that it is a steady and certain knowledge of the divine benevolence toward us, which is founded upon the truth of the gracious promise of God in Christ, and is both revealed to our minds and sealed in our hearts by the Holy Spirit."

Yet the theological certainty of this statement does not, according to Calvin, necessarily lead to psychological security. It is perfectly consistent with a sustained wrestling with doubt and anxiety on the part of the believer.9
This makes Calvin's considered view more readily defensible than I thought it was at one point. And it makes sense of the post-Calvin preoccupation with the question: "How can I be sure I'm among God's predestined? How can I truly know I am saved?" You will notice, in precise accordance with Cary's analysis of "the standard Protestant" answer (as opposed to Luther's answer), that the Calvinists who grappled with this question rotated through a series of answers – each of which were centered inwardly, on the self. First, it was: "Well, Do I have true faith? If so I must be among the elect." Then it was: "Well, maybe I'm fooling myself about my faith; so, Do I have good works? Am I growing in sanctification? If I am, I must be among the elect." And then it was: "Well, isn't it true that lots of people begin to bear fruit and fall away? And isn't it possible that my works aren't quite as good as I think they are? So, Do I have a regenerate heart, accompanied by certain specific religious affections or feelings? If I do, I must be among the elect." And then it was: "Well, wait, look at all these 'revivalist' types who keep whipping people up into a frenzy of religious enthusiasm. What if my religious affections aren't really inspired by a regenerate heart, either? The feelings aren't enough. I must have true faith." So, once more: "Do I have true faith? If so, I must be really among the elect;" and so on it goes.
Recall Cary's "Standard Protestant Syllogism" aimed at delivering assurance to Christians: "All who believe will be saved; I believe; therefore, I am saved." This is an instance of reasoning which is motivated by the conviction that assurance requires "reflective faith," and we've already seen that the results of this approach can be pretty disastrous to the aim of providing assurance. But notice how the same syllogism continues to pop up in the following passages, the first from McGrath's Iustitia Dei (volume 2), and the second one from A Life of John Calvin:
A second aspect of [Puritan federal] theology which claims our attention is the concept of 'temporary faith', intimately linked with the Puritan quest for assurance of election. Perkins' discussion of the question: how may I know that I am among the elect? exemplifies both the Puritan preoccupation with, and response to, this issue. The earlier Reformed appeal to the present existence of faith as the basis of assurance was negated by the rise of the Bezan doctrine of limited atonement. The reprobate may seem to have a faith at every point identical with the elect, but it is merely a 'temporarie faith', which fails to apply the promises of God to the believer. The individual believer is therefore prevented from knowing whether his is a true or a temporary faith, and thus from knowing whether he is among the elect or the reprobate. Perkins produces the following syllogism for troubled consciences:

Everyone that beleeves is the childe of God
But I doe beleeve
Therefore I am the childe of God.

Unfortunately, as Perkins himself appears to have appreciated (in that he died in the conflict of a troubled conscience, uncertain as to whether he was among the elect), the similarity between the faith of the elect and reprobate excluded such an appeal as the basis of assurance. 10
So, if you're not supposed to look to your own faith, but you still are supposed to examine something about yourself to ground your assurance, you look to your behavior: "It is precisely this difficulty which led to the later shift in emphasis away from faith to personal sanctification as the basis of assurance." 11 And it appears that this strategy is perhaps truer to Calvin's own thought as well:
Grace … is only given to the elect. This being the case, an obvious question arises. How can anyone know whether he or she is among the elect? Given that grace is invisible and beyond human detection, may its presence be discerned by its effects?

Although Weber argued that Calvin did not regard such questions as problematical, the evidence suggests quite the reverse. A struggle with unbelief, Calvin suggested, was a permanent feature of the Christian life … Although he indicated certain theological or spiritual means by which such doubts may be countered – for example, by looking to the promises of God as they are revealed in Christ – he also appealed to more practical considerations: good works. Although Calvin stressed that works are not the grounds of salvation, he nevertheless allowed it to be understood that they are the grounds of assurance …

Anxiety over this question of election is subsequently a pervasive feature of Calvinist spirituality, and is generally treated at some length by Calvinist preachers and spiritual writers. The basic answer given, however, remains substantially the same: the believer who performs good works has indeed been chosen …

This idea was often stated in terms of the 'practical' syllogism, which rested upon an argument constructed along the following lines:

All who are elected exhibit certain signs as a consequence of that election.
But I exhibit those signs.
Therefore I am among the elect.

The syllogismus practicus thus locates the grounds of certainty of election in the presence of certain signs (signa posteriora) in the life of the believer. 12
But then, when it occurs to you that non-elect people can do pretty good works too, and that your own works might not be all that spectacular after all, you attempt to discern an internal quality bound up in some way with regeneration – feelings of love, and the like. 13 And then the cycle starts again, always spinning around the center.
But notice this interesting upshot: if I can't have grounds for assurance that I'm among the elect, and if my baptism neither entails that I am elect nor that I have been justified, then, since a person can be justified at any time only if he is elect, I cannot even have assurance that I am, right now, in a state of grace, or a justified position, before God. It follows that Calvin doesn't only fail to give us more assurance than Luther (regarding whether we're elect), but that he fails to give us even as much assurance as Luther does (with respect to the question whether we are currently in a right relationship with God). In this regard, too, I think Catholic theology is likewise in a position to provide more assurance to believers than Calvinism.
But aside from these implications, I think there is something just intrinsically peculiar about the whole orientation on display here. What could be less justification-by-faith-ish than saying, "Well, my works are pretty good and my faith is pretty strong, so I am justified." And what could be more justification-by-faith-ish than saying: "Neither my works nor my faith nor my religious feelings amount to a hill of beans, truth be known; but Jesus amounts to a whole mountain of beans, and I know right where to find Him." Thus Cary:
The best answer to [the worry about assurance], I'd suggest, is not to go Calvin's route but to stick with the sacraments and say "What do I care if I've been predestined or not?" Today's sacramental faith is sufficient for the day. Today you can believe that God is not lying to you. Tomorrow's faith will have to wait for tomorrow. The sacramental promise of your baptism will still be there, and the struggle to believe it (against worries about predestination, the weakness of your own faith, and so on) will still be there to be fought. That's just how Christian faith goes, a continual struggle against unbelief in which … unbelief is in fact stronger than the faith of our own hearts, and we have no hope at all except the truth of God's promise in Jesus Christ. But that's enough. For precisely the experience of the inadequacy of my efforts to believe is what convinces me that I must put my trust in Christ's word alone, not in my ability to believe it – and precisely this strengthens true faith. So Anfechtung is the right agony of conscience to have, rather than the distinctively Protestant struggle to come to the belief that I truly believe, and to experience my own inward sanctification and righteousness because of the work of the Spirit in me, and so on. Save me from such inwardness, I say. Give me Word and Sacrament instead. 14
Amen to that.