Remember the Sabbath: A Catholic Appreciation of Reformed Christianity
Feb 25th, 2009 | By
Andrew Preslar
| Category:
Featured Articles
Hello friends. Welcome to our website.
What follows is partly autobiographical but it is not a conversion story.  As far as that goes, the only really astounding and numinous experience of my life was a conversion experience, but this occurred almost fourteen years prior to my more pedestrian entrance into the Catholic Church.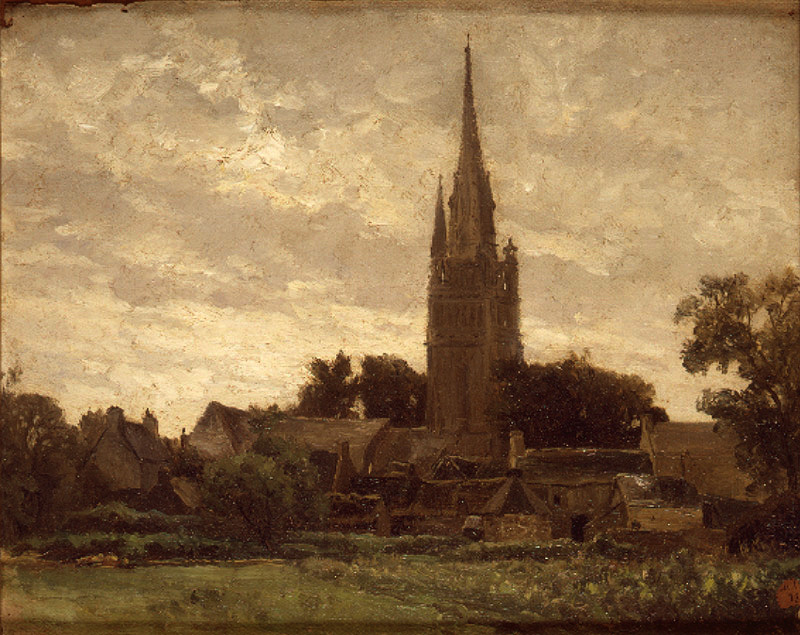 Carlos de Haes, La torre de la iglesia. Cercanias de Douarnenez.
At the time of my personal epiphany, I was convinced that Catholicism and Calvinism were equal and not in every way opposite heresies. The Holy Spirit, and only he could be responsible for what happened to me then, left my conscious mind very much what it had always been. I would have died at the stake for the theology propounded by Dispensationalist writers in the tradition of Lewis Sperry Chafer and Dallas Theological Seminary. But this is not a tale of martyrdom either. This brief reminiscence, which is supposed to be an introduction article for Called to Communion, is about the place I found when I finally turned to the Lord of heaven and earth and asked him to make me a part of his church as a full-fledged member of a local church that was tangibly a part of the universal church. My soul was no longer satisfied with a diet of intellectualism and ecclesial isolationism. I needed more than that. I needed the Body.
What I initially found, much to my delight and heart's ease, was a local church in the Presbyterian and Reformed tradition. I found myself among a congregation of baptized, believing, and confessing Christians under the care of a duly-appointed presbytery, which congregation was itself part of a tangible body of churches under the care of a general assembly of ecclesiastical governors. Here I discovered that "Calvinism" is something much more than a matter for debate among habitual theologues.
What did we do in this place? Let us approach the what by way of the when. Time, as reckoned by consistently recurring sequences, is a gift of God whereby our lives are ordered. Like it or not, the Sabbath occurs on a regular schedule. If you would worship on the Sabbath, then you have to conform your spiritual life to the rhythm of time. This is good for the soul. The faithful in this particular place worshiped on the Christian Sabbath—on purpose and as a matter of religious duty. I followed their example. I came to understand and experience life in Christ as more than a single arch from rebirth to resurrection. The Christian life is a tangible gift lived week-in and week-out according to a temporal pattern designed by God. The sanctification of time was one of the most intensely spiritual discoveries of my life. I longed for worship. Everything else began to be understood and (just as importantly) scheduled in deference to the Lord's Day. I was being taught in words and deeds that this specific ordering of our lives together is not merely a matter of convenience. It is the law of Christ, the spiritual law which sets us free.
So what did we do on Sunday? We worshiped the Holy Trinity. I know that the Father, Son, and Holy Spirit, one God, are together worshiped and glorified in the Presbyterian and Reformed tradition because we corporately confessed both the Nicene Creed and the Apostles' Creed on a regular basis. We also sang the Psalms. We stood for the reading of God's Word. And we sat still (except for the small ones, who tried to sit still) while the teaching presbyter expounded upon Sacred Scripture with wisdom and passion. Occasionally, we stood solemn witness as a baby was grafted into the visible church and made a partaker with us of the good things of the New Covenant. With somewhat greater regularity, eventually on a weekly basis, each confessing member in good standing with this or some other recognized local church received a portion of bread and wine that had been set apart for a very special purpose. Finally, just before the service was ended, the presiding minister raised his arms and invoked a priestly blessing upon everyone present.
This was my only first-hand exposure to Reformed Christianity, and it lasted about a year. I do not know for sure whether mine was a typical experience.  I do know that the reverence and devotion I found there are things that I never want to leave behind.
Beyond all doubt, however, I have left something behind. And just as certainly I have found something else. In both cases, the question is "What?" A related question, one that is near the heart of our project, is "What has remained the same?" Are there ties that bind Catholic and Calvinist together in Christ? I, for one, believe that the answer is "Yes" and that there is ample evidence for this affirmation. We see this evidence as the basis of hope for something more, much more, than the current reality of impaired communion between Catholic and Reformed Christians. That hope is the heart of "Called to Communion."
You might object to my hopeful assessment of the ecumenical situation. I admit the enormous challenges involved. Here we will have an opportunity for clarification, distinction, and (inevitably) debate concerning any number of important matters. I am betting that some devout and intelligent people will have a lot of good things to say in this forum. Let us proceed, and may God be glorified in all things. Jesus of Nazareth is not dead. He is risen. The implications of this are still being worked out in our souls and bodies, in the church and in the world. In the course of this working out here on earth we encounter many difficulties and are entangled in many disputes. Among the disputed things is the interpretation of the following passage, which I offer here, nonetheless, not as bone of contention but as a confession of faith, a sure and firm foundation of hope:
We know that in everything God works for good with those who love him, who are called according to his purpose. For those whom he foreknew he also predestined to be conformed to the image of his Son, in order that he might be the first-born among many brethren. And those whom he predestined he also called; and those whom he called he also justified; and those whom he justified he also glorified. (Romans 8:28-30, RSV)
Let us assure our hearts before the Holy Trinity, my friends, not in presumption but in hope of the omnipotent mercy.
__________